9/22/2021, Portland, Ore.—Eleven Software has again been awarded a Top Workplaces honor by The Oregonian, as well as being named as one of Oregon's Healthiest Employers by Portland Business Journal.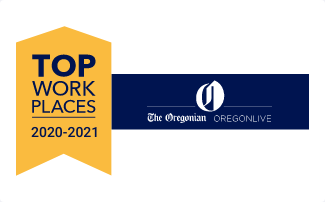 The rankings are based on employee feedback that is gathered through a third-party survey, which is administered by employee engagement technology partner, Energage, LLC. The anonymous survey measures 15 unique drivers of engaged cultures that are critical to the success of any organization, including alignment, execution, and connection, to name a few.
"During this very challenging time, Top Workplaces has proven to be a beacon of light for organizations, as well as a sign of resiliency and strong business performance," said Eric Rubino, Energage CEO. "When you give your employees a voice, you come together to navigate challenges and shape your path forward. Top Workplaces draw on real-time insights into what works best for their organization, so they can make informed decisions that have a positive impact on their people and their business."
Eleven recently launched a health and wellness program called Feed Your Mind & Body, which was spearheaded by an employee as a response to the pandemic. The program gives employees a monthly stipend for a breadth of wellness-related expenses, from mental to physical to financial health. Some examples of what the employees use it for are online gym subscriptions, budgeting webinars, audiobooks, healthy cooking apps, and more.
"We have all been put to the test during this ongoing pandemic and I'm incredibly proud of the team we are continuing to build," commented Peri Pierone, CEO of Eleven Software. "Before we are employees or technologists, we are people first. We work hard to look at health holistically and want everyone who comes to work for Eleven to be able to bring their whole selves. We invite anyone looking for an exciting opportunity at a people-first technology company to come check us out."
Learn more about Eleven's culture and job opportunities at www.elevensoftware.com/careers.
---
ABOUT ELEVEN SOFTWARE

Eleven is a global SaaS company on a mission to simplify managed Wi-Fi. Since 2001, Eleven has been developing solutions that bring to life a world with simple, seamless, and secure connectivity for all. Today, thousands of customers in more than 50 countries rely on the ElevenOS smart Wi-Fi platform to deliver managed Wi-Fi with ease. At its core, ElevenOS is a central authentication platform and authenticates over 500 million guest sessions each month. Other key features include cloud network management, captive portals with tiered access, enterprise device management, and real-time analytics. For more information visit elevensoftware.com.
ABOUT ENERGAGE
Energage is a purpose-driven company that helps organizations turn employee feedback into useful business intelligence and credible employer recognition through Top Workplaces. Built on 14 years of culture research and the results from 23 million employees surveyed across more than 70,000 organizations, Energage delivers the most accurate competitive benchmark available. With access to a unique combination of patented analytic tools and expert guidance, Energage customers lead the competition with an engaged workforce and an opportunity to gain recognition for their people-first approach to culture. For more information or to nominate your organization, visit energage.com or topworkplaces.com.