9/22/2022, Portland, Ore.—Eleven Software has been awarded a Top Workplaces honor by The Oregonian for the third year in a row–this year ranked #2 for small business. Eleven has also been named as one of Oregon's Healthiest Employers by Portland Business Journal for the second year.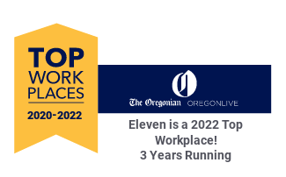 The list is based solely on employee feedback gathered through a third-party survey administered by employee engagement technology partner Energage LLC. The anonymous survey uniquely measures 15 culture drivers that are critical to the success of any organization: including alignment, execution, and connection, just to name a few.
"Earning a Top Workplaces award is a badge of honor for companies, especially because it comes authentically from their employees," said Eric Rubino, Energage CEO. "That's something to be proud of. In today's market, leaders must ensure they're allowing employees to have a voice and be heard. That's paramount. Top Workplaces do this, and it pays dividends."
Earlier this year, Eleven was acquired by private equity firm, Ven Capital Partners. New CEO, Hannah Greenberg, had this to say about Eleven's people and culture: "Beyond the financial strength and potential for huge growth, we knew Eleven was the right fit for us because of the people. Our core values of energy, empathy, focus, growth, innovation, and transparency are palpable every day because everyone brings them to work in big and small ways all the time."
As Eleven moves forward onto their next chapter under new leadership, they are adding to the team. "We're a group who loves a challenge–whether it's a feat of engineering, adapting to new sales processes, or a tough crossword puzzle. I am so excited for what the future holds as we continue to grow the company with this stellar group of people. We invite anyone who shares our values to check out our job openings," commented Greenberg.
Learn more about Eleven's culture and job opportunities at www.elevensoftware.com/careers.
---
ABOUT ELEVEN SOFTWARE

Eleven is a global SaaS company on a mission to simplify managed Wi-Fi. Since 2001, Eleven has been developing solutions that bring to life a world with simple, seamless, and secure connectivity for all. Today, thousands of customers in more than 50 countries rely on the ElevenOS smart Wi-Fi platform to deliver managed Wi-Fi with ease. At its core, ElevenOS is a central authentication platform and authenticates over 500 million guest sessions each month. Other key features include cloud network management, captive portals with tiered access, enterprise device management, and real-time analytics. For more information visit elevensoftware.com.
ABOUT ENERGAGE
Energage is a purpose-driven company that helps organizations turn employee feedback into useful business intelligence and credible employer recognition through Top Workplaces. Built on 14 years of culture research and the results from 23 million employees surveyed across more than 70,000 organizations, Energage delivers the most accurate competitive benchmark available. With access to a unique combination of patented analytic tools and expert guidance, Energage customers lead the competition with an engaged workforce and an opportunity to gain recognition for their people-first approach to culture. For more information or to nominate your organization, visit energage.com or topworkplaces.com.